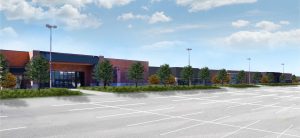 Crain's Cleveland Business
May 07, 2021
Michelle Jarboe
A business park emerging from empty big-box stores in Garfield Heights has landed another major anchor.
Sister companies Innoplast and Thermoprene, based in Auburn Township, recently signed a decadelong lease at Highland Park, the reimagined City View Center along Interstate 480. The 62,652-square-foot deal spans a former Dick's Sporting Goods store and part of a space once occupied by AJWright, a defunct discount retailer.
Innoplast makes bollard covers and other traffic-centric products, from speed bumps to padded column covers used in parking garages. Thermoprene manufactures custom extrusions — plastic, rubber and aluminum products.
The companies' office and warehouse operations are scattered across three sites in the region. Founder Craig McConnell said growing customer demand prompted him to scour the East Side for new, consolidated space. An investment from ScaleCo, a private equity firm based in Cleveland, is making the move possible.
McConnell wasn't sure what to expect from Highland Park, the redevelopment of a shopping center that opened in 2006 on former municipal landfills and swiftly slid into foreclosure and receivership.
"When we got there, I was totally amazed at the condition of the property," McConnell said. "From the outside, it looks a little scary … but the buildings are, like, perfect. They look like a time capsule."
Solon-based developer Industrial Commercial Properties LLC took control of City View early this year after forming a joint venture with the note-holder on the 60-acre property and making the only bid on the site at a foreclosure auction. ICP changed the name of the project, started renovations and began wooing a different breed of tenants.
Highland Park now spans almost 80 acres.
In December, ICP acquired 15 acres just south of the former shopping center from the city's land bank. In early May, the developer bought 4 acres nearby that once were earmarked for a medical marijuana operation.
"Our focus right now is finding good, strong, quality companies to fill in the rest of the development," said Austin Semarjian, ICP's vice president of leasing and acquisitions.
He said the company has been talking to "a handful of prospects" about leasing 30,000 to 60,000 square feet of space. Click to read entire article.