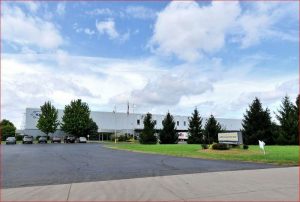 A prominent Cleveland-area real estate developer is once again expanding its footprint in the Dayton region.
The latest acquisition comes just two months after the company snapped up nearly 29 acres at the Miami Valley Research Park in Kettering.
Industrial Commercial Properties (ICP), a Solon-based firm whose portfolio includes more than 40 million square feet of industrial, commercial and office space, purchased the Harco Manufacturing automotive plant in Moraine on Oct. 13 for nearly $3.2 million.
The purchase included both the 311,000-square-foot building at 3535 Kettering Blvd. and the surrounding 17.9-acre lot.
"We acquired this asset for investment purposes at this time," Chris Semarjian, owner of ICP, told me. "It's right next to our GM Moraine site. It's an extremely functional facility that we think will be a great investment for a long-term basis."
Harco, a longstanding manufacturer in Greater Dayton, supplies brass and steel fittings, brake hose assemblies and stability control hoses for OEM (original equipment manufacturer) customers in the automotive industry. The company had more than 100 local employees in 2015 when it was purchased by a division of China-based Qingdao Sunsong Co. Ltd.
Harco will continue to operate at the site.
"Their business is going very well, and they're fully utilizing the facility," Semarjian said.
The building was previously a Delphi plant. Harco moved there in 2008 when the company relocated its operations from Englewood.
The deal marks the latest expansion of ICP's holdings in the Dayton area this year. In late August, the company bought a 28.5-acre tract at the Miami Valley Research Park — a 1,250 site that is owned primarily by a university-related nonprofit. That acquisition came just months after ICP invested $5.2 million to purchase four commercial buildings at the research park.
"We continue to grow in the Dayton area," Semarjian said. "We love the marketplace in the region — the I-75 corridor (connecting) Dayton to Cincinnati — and we have another acquisition slated to close by the end of the year in the market."
ICP's portfolio now includes more than 6 million square feet of commercial property in the Greater Dayton region, according to its website. Nearly 1.7 million is available for lease. Link to article.